BEFORE YOU START READING AN EPIC PAGE, I'm giving credit to all the pictures and videos that are below. Without the people who made them, I couldn't have made this page! Thanks! BTW, PLEASE DO NOT EDIT THIS CHARACTER! IT IS MINE AND TRULY MINE!
~This character is owned by: Bluey
NOTE: GOT THIS FROM THIS SERIES/BOOKS CALLED PANDORA GETS LAZY, ETC. CREDIT TO AUTHOR WHO MADE THIS CHARACTER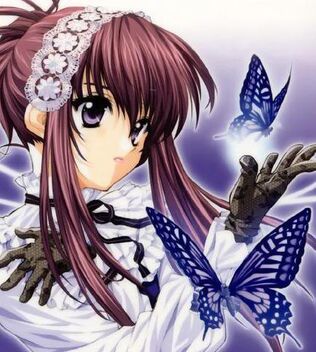 Alcie is a Greek mortal who possesses a special power, given from the gods. She can read minds and study people's emotions. It is unknown where she came from, but her hometown is Crete. Her real name is Alcestis.
Appearance
Edit
Earth Form: This is Alcie's main form. She is very pretty, and is seen just with brownish purple-ish hair. Her hair is very long, with long bangs. She wears black gloves and a white blouse-dress.
Personality
Edit
Alcie is very shy and caring. She doesn't brag much, or is mean. If someone's mean to her, she doesn't talk back. She stays calm all the time, no matter the situation.
I DO NOT OWN THIS!!!